I'm quite enthused about the storybook I'm currently working on. The book is called Bear Island. It's a story themed around the idea that we were all designed by God for loving relationship. When I release the book, I'll divulge more of the storyline.
Here's the story in a nutshell. Bear Island is a great place for bears to live, but all of the bears are alone. They're alone because they think that the way to be happy and strong is to be selfish. There's a lot of fighting and grumpiness on the island. Then one day a very large, new bear visits the island. All of the native bears are afraid of him at first, but he goes against the grain of the culture and models selflessness and love to the island, changing the culture.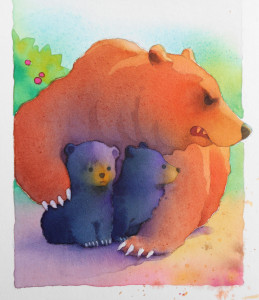 The point of this post is to give you a glimpse of how the artwork is coming along. I've had a couple of people tell me that they would like to see some work in progress. I hadn't thought of doing this because, well, I see my own artwork everyday. If readers seem interested, I'll do this with each new book. With each book I plan to employ a different style to fit the attitude of the book – fanciful, or silly, or realistic – so I hope this will help to keep it interesting for you.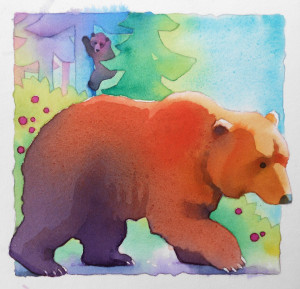 Bear Island was written to be accessible to a slightly younger audience than were my previous books. The illustration style for Bear Island is simple and pared down, in keeping with the simplicity of the story.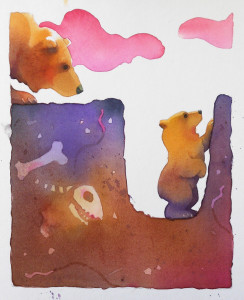 As a side note, I'll mention another hope I have for this book. I designed it with the intention of making it palatable to Black and Hispanic readers. When I worked at Hallmark as a greeting card artist, I learned why greeting cards often feature animals as "spokespeople." A primary reason is that this allows people of differing races to identify with the character. In the same way, Bear Island is peopled with brown bears, (not polar bears, mind you!) So my hope is that the characters will appeal to kids of any race, enabling them to fully identify with the characters. The story makes a point of affirming intact, loving families as an ideal. Also, after the selfish bear culture has been transformed into a life-affirming, relational one, new and creative possibilities that didn't exist before emerge on the island.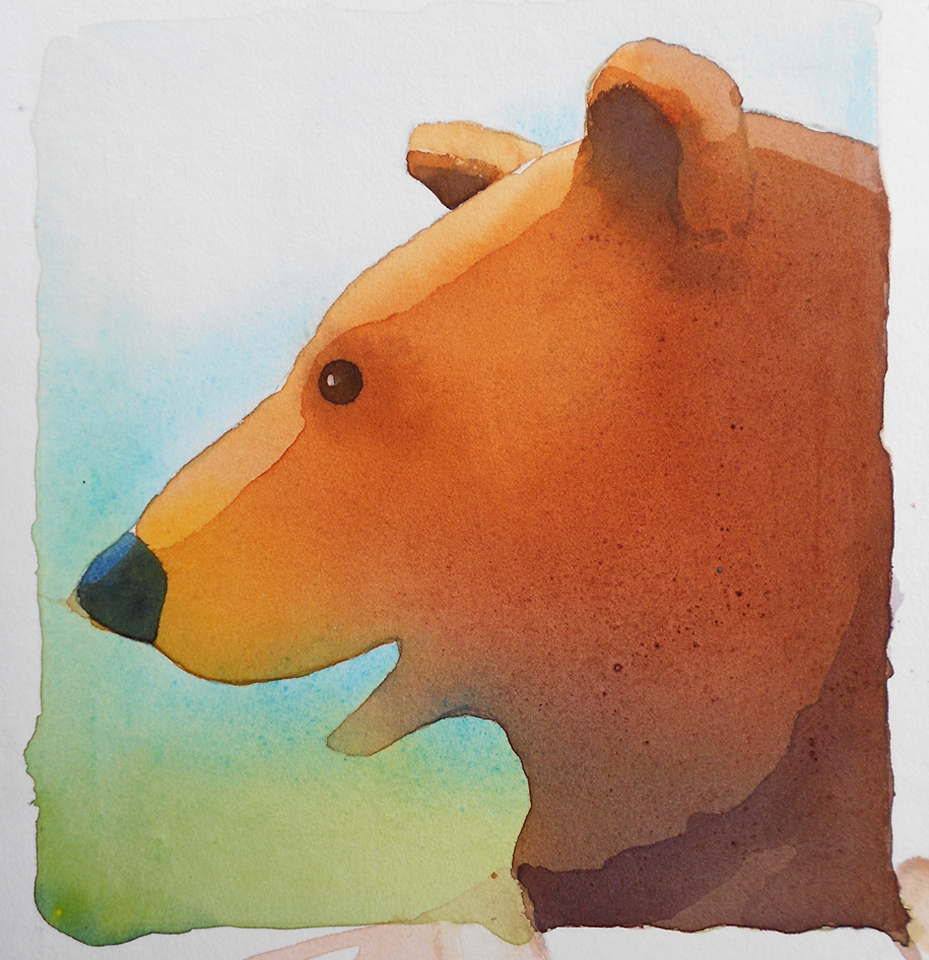 Here you can see some of my favorite illustrations so far. What you're seeing are the untouched paintings shot with my lame camera, but you can still get a pretty good idea of how they're coming along. I'm juggling a lot of other work right now, but I expect to release Bear Island by the month of April. Enjoy!
If you haven't already done so, please visit the home page and sign up on my email list so I can notify you of new storybook releases. I'll send you an ebooklet as a thank you.