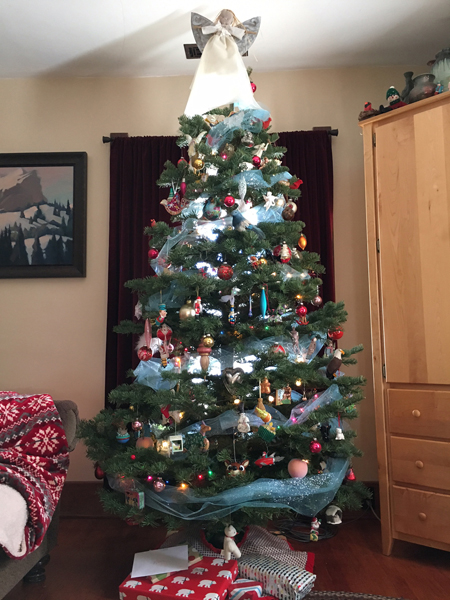 Our Christmas tree is a bit like a scrapbook. Many of our tree ornaments have stories behind them, or they mark obsessions or events in the lives of our children. I like this because these decorations come out once a year, and since they're focused around a holiday tradition it makes sense to save them. As our children have grown older and we hang these decorations, Mollie and I are often reflective, and filled with gratitude over how the personalities of our children have born fruit in their adulthood over each passing year.
I want to share a simple, simple idea with you for an ornament that can become an heirloom for your family. This is one of my favorite keepsake gifts that I have given to Mollie because it recorded a specific point in the lives of our children. I suppose it's really a variation of the plaster-cast-hand-print craft that we have probably all received at some point as parents, except I never really knew what to do with all those plaster casts. (I think we have them somewhere!…)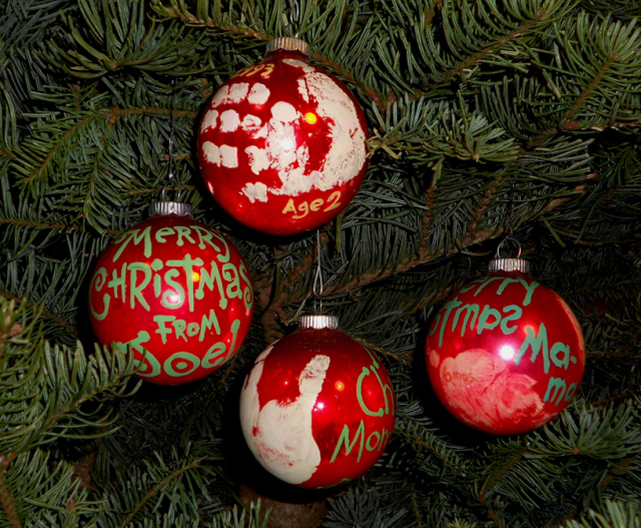 In this case, I had each child put his or her handprint in white on a red glass Christmas tree ornament. I put the age of the child next to their print, and the year. For the space that was left I asked the child what they want the ornament to say. (Usually it was something like "Merry Christmas Mommy!" and, "Love, child's name.") You probably need to do this before your child's hands get too big!
I started with my oldest two when they were 3 and 1 and a half years old. After that, in subsequent years I decided to only do one handprint per ornament. The kids got into this because they knew we were making a Christmas present for Mom. I still remember each child's reaction as I brushed paint on their tiny hands during the handprint process:
Caleb, who is legally blind and very tactile, got a big grin on his face.
Lee became very serious about the importance of the task, and did his best to carry it out perfectly.
Sierra giggled out loud and said it tickled, and that the paint was cold.
Joel kept making a fist, once he figured out I didn't want him to make a fist.
Renee freaked out because she thought it was gross, and I had to reassure her that the paint would wash. off.
So that's it! All you need is:
A set of large matching ornaments set aside for this purpose. I used white acrylic paint for the handprints, and green and gold paint for the lettering. Acrylic paint cleans up with water. I suppose you could also use latex (not oil base) house paint. (Don't use poster paint as it will come off, unless you want to clear coat the ornament when you're done.) You might want a small, pointed brush for the lettering, but a medium size, soft, flat works best for brushing paint onto hands.
A handprinting tip:
In order to increase your chances of getting a legible handprint, instruct your child to spread his/her fingers apart slightly before printing. (You might need to model this for them.) Then, guide the hand gently onto the ornament and pull the ornament away once you think a good impression has been made. If the hand slides around once it's on the ornament you will have a globby smudge rather than a handprint. It might help to put the heel of the hand on the ornament first and then lay the fingers down. Also, you only need a thin layer of paint on the hand.
A final thought is that you might consider using plastic ornaments. I prefer glass, and we happened to have a matching set on hand, but I'll be sad if ours get broken someday.
I'd love to hear from you if you decide to try this!
Brief book update: I've finally started illustrations for the next book, The Friendly City. I'll keep you posted on progress.
Thank you for you support – I hope you and your family have a joyful Christmas season! May God reveal Himself more clearly to us all in the coming year,
Scott